Ennio Morricone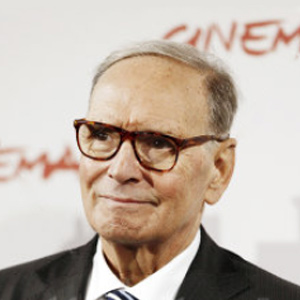 Genre:
Music By:
Release:
Time:
Tagline:
Date of birth: November 10, 1928 in Rome, Italy
Profession: composer, conductor, orchestrator, trumpet player. Mainly writes music for films and series.
Acquaintance with music: Morricone was born in the family of a jazz trumpet player and a housewife. His father, Mario Morricone, gave him his first musical lessons. At the age of 9, the young musician entered the National Academy of Santa Cecilia. His studies lasted for 11 years.
Early career: During his studies, he played in the night clubs and hotels of Rome with the band where his father used to work. Then, he found work in a theater where he worked as a musician and composer. In 1950 he arranged classical music for radio. He continued doing arrangements till 1960.
As a composer: He became a composer at the age of 33, in 1961. That year Morricone wrote his first composition for the film "The Fascist" by Luciano Salce. Next years, he composed music for other Salce`s comedies.
A real fame came to him in 1964, when he started cooperation with Sergio Leone, who was his classmate. He created music for Leone`s "A Fistful of Dollars", a very popular spaghetti western starring Clint Eastwood. His creative approach attracted attention of many famous European and Hollywood directors. He cooperated with Brian De Palma, Oliver Stone, John Carpenter, etc.
Famous films: Morricone wrote music for many famous films. The most popular of them are: "The Thing" (Carpenter), "The Good, the Bad and the Ugly" (Leone), "The Untouchables" (De Palma), "Wolf" (Nickols).
Awards: Morricone was nominated for Oscar several times. He received this award in 2007. He also has Grammies, Golden Lions and Golden Globes.
Private life: Morricone is married, he has 4 sons.
Interesting Facts: Since 1980 Metallica opens their concerts with Morrecone`s "Ecstasy of Gold".
Morricone played in two films.
---
Related News: